EN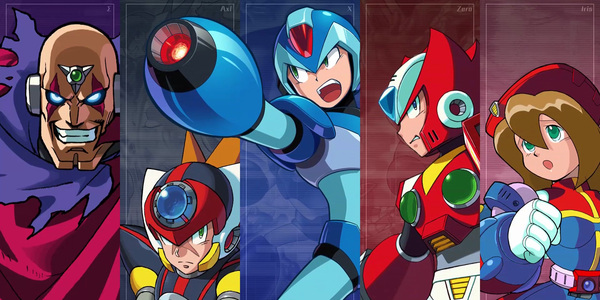 New Mega Man X Legacy Collection "X Challenge Mode" details and 30th Anniversary Sweepstakes info
Are you up to the X Challenge? We previously announced that all eight Mega Man X games will be coming to modern platforms via two collections: Mega Man X Legacy Collection, featuring Mega Man X, X2 , X3 , and X4 , and Mega Man X Legacy Collection 2, featuring X5 , X6 , X7 , and X8 . Both of these collections come with the new X Challenge Mode, pitting X against pairs of Mavericks out for revenge. We've got a brand-new video showcasing a handful of these match-ups for you, alongside an amazing sweepstakes opportunity no Mega Man fan will want to let pass them by!
Check out the video above for brand new info on X Challenge mode, including some of the tricky sets of bosses you'll have to take down. Even the most seasoned Mega Man X players will have to step up their game to defeat these Maverick duos and settle the score once and for all.
Get equipped with both collections as soon as they're available on July 24 th with a digital bundle pre-order ! Pre-orders on PlayStation 4, Xbox One, and Steam will receive a 10% discount, and PlayStation 4 pre-orders made through PlayStation Network will also receive a free Mega Man X Legacy Collection 1 + 2 theme.
In North America, fans can also pre-order a packaged bundle for consoles for $39.99 in a combo pack that includes a disc for each collection on Xbox One and PlayStation 4. For Nintendo Switch, the pack will include a game card with the first collection and a digital download voucher for the second collection. For participating retailers, click here .
We're also announcing a unique opportunity for Mega Man fans in the United States; the Mega Man 30 th Anniversary Sweepstakes, providing one lucky winner with a trip to Japan to get hands-on time with Mega Man 11 before it's released, meet the Mega Man development staff, and visit the biggest video game event in Japan, Tokyo Game Show 2018!
Mega Man 30th Anniversary Sweepstakes Official Site
Check out the link above for sweepstakes rules and details on how to enter. For all the latest on Mega Man, follow official Mega Man channels on Twitter , Facebook , and Instagram !