EN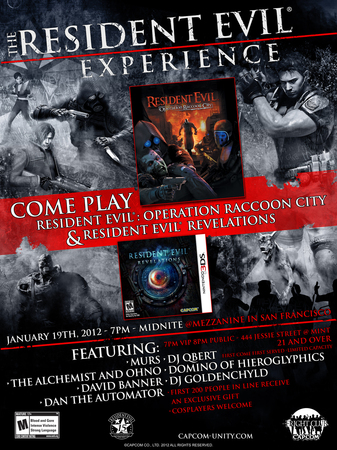 Reminder – Fright Club descends upon San Francisco this Thursday
This coming Thursday we're hauling builds of our two newest Resident Evil titles – Revelations and Operation Raccoon City – and setting them up inside the Mezzanine for four hours of bloody good fun. We'll have hands-on kiosks, live performances and more…
We also encourage cosplayers to show up and rep the RE universe! We happen to know a few rather excellent fan costumes that'll be there, so if you've got one and are within 100 miles, get on over and strike a pose!
Plus we have performances all night!
Dan the Automator – Previewing songs from his upcoming Deltron 3030 sequel album!
David Banner – The Grammy award winning producer, actor and rapper is the host MC of the event.
Domino from Hieroglyphics – Performing a turntable mix of classic Hiero tunes.
DJ Qbert – Performing an exclusive set dedicated to Capcom fans.
Ohno and Alchemist – Performing songs from their critically acclaimed Gangreen album.
Murs – The Living Legend!
All going down Jan 19 in San Francisco. Please note this is a 21+ event with limited capacity and is first come, first serve. More info on the Facebook page!