EN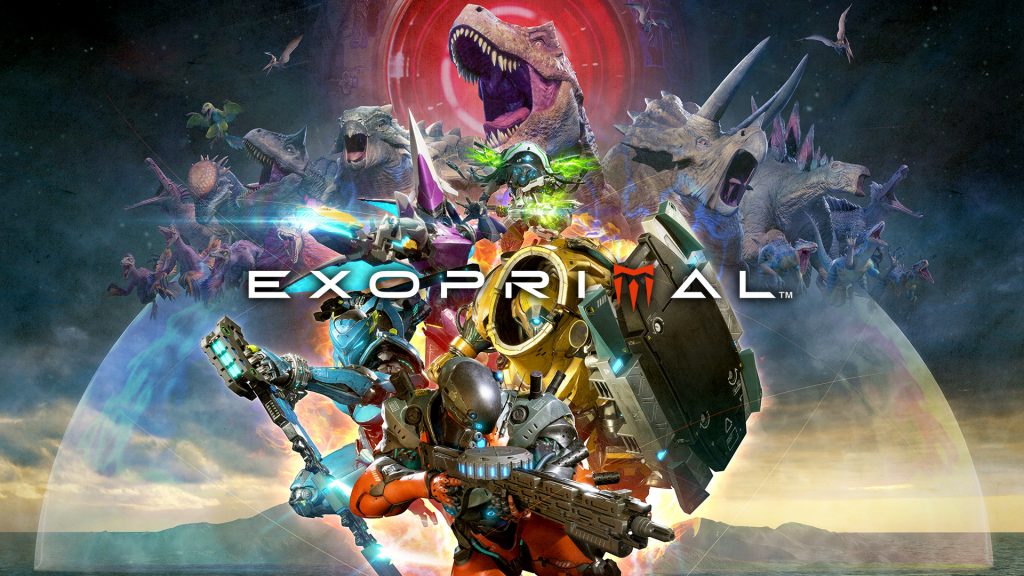 Exosuits and dinosaurs clash in Exoprimal, out now!
Welcome to the wargames.
Teams of five players face off against overwhelming dinosaur hordes, terrifying Neosaurs, and even opposing squads in a battle of the ages!
Welcome to Bikitoa Island
People. Technology. Under threat. From dinosaurs. Set against the backdrop of a near-future world, humanity has been pushed to the brink by a strange phenomenon: swarms of dinosaurs pouring from vortexes that seem to appear at any time and in any place. Thanks to the efforts of the Aibius Corporation, their next-generation artificial intelligence, Leviathan, and the variety of powered armor called Exosuits that they've developed, skilled Exosuit pilots known as Exofighters are well-equipped to jump into danger and exterminate these threatening dinosaur hordes.
Meanwhile, an Exofighter patrol unit known as "The Hammerheads" has been circling the mysterious Bikitoa Island for weeks, unaware that their daily uneventful patrol is about to put them on a crash course with the truth about Bikitoa Island, Leviathan, the Aibius Corporation, and possibly even the cause of the dinosaur outbreaks… if Ace, their star Exofighter, can survive long enough, that is.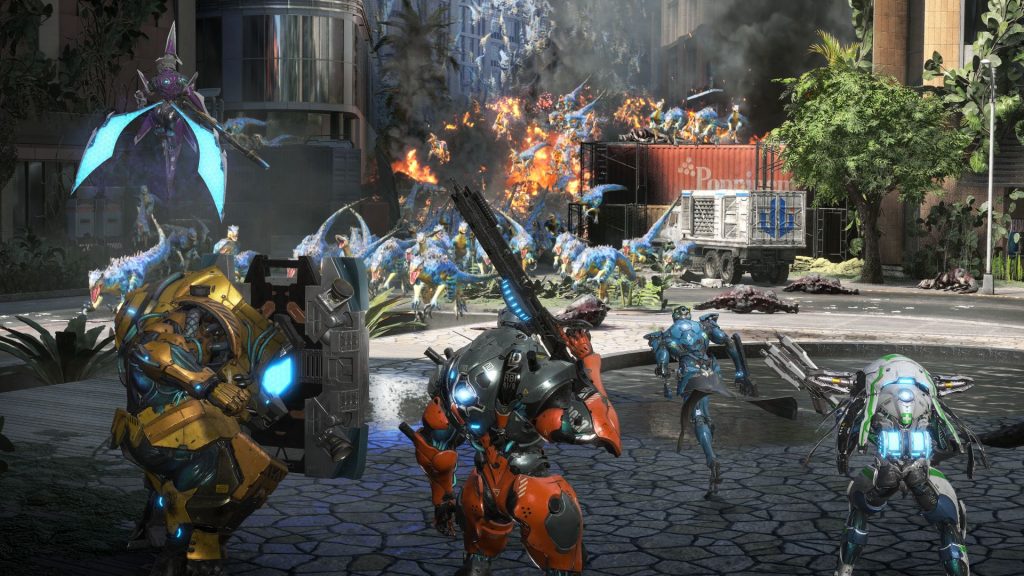 A Race for Survival
In the game's main mode, Dino Survival, you'll be thrust into a series of life-or-death wargames run by the next-generation artificial intelligence, Leviathan, who will put squads to the test with ever-evolving missions in a race against an opposing team. As you play, you'll also unlock data fragments that will help unravel the mysteries of the world of Exoprimal and help The Hammerheads achieve their ultimate goal of escaping Bikitoa Island. At its core, Exoprimal is all about working together with your five-person squad to adapt to ever-changing conditions. Both your Exosuit and your rig – an attachment that grants an extra ability – can be swapped out at any time during a match to adapt and overcome the challenges that lay ahead of you. You'll need to be adaptable facing the many threats ahead, which include super swarms made up of thousands of raptors, terrifying creatures called Neosaurs that have been mutated on their trip through time, or even opposing squads of Exofighters!
With that in mind, at launch the game will include a feature that was added thanks to player feedback. The Final Mission Selection feature gives players three preference settings for matchmaking in Dino Survival that can influence how a match ends: PvP, PvE, and Random. When PvP is selected, opposing squads may be put in direct competition with each other to see which team will survive and which team will be flagged for… mortal sunset. Meanwhile, when PvE is selected, you're likely to see matches where a winner is decided based on which squad completes their objectives the fastest. Exofighters who are ready to mix it up can select Random, which will also provide an experience point bonus. You can change this setting at any time before starting matchmaking for a Dino Survival match, and it won't affect your story progress, so select whatever suits your mood!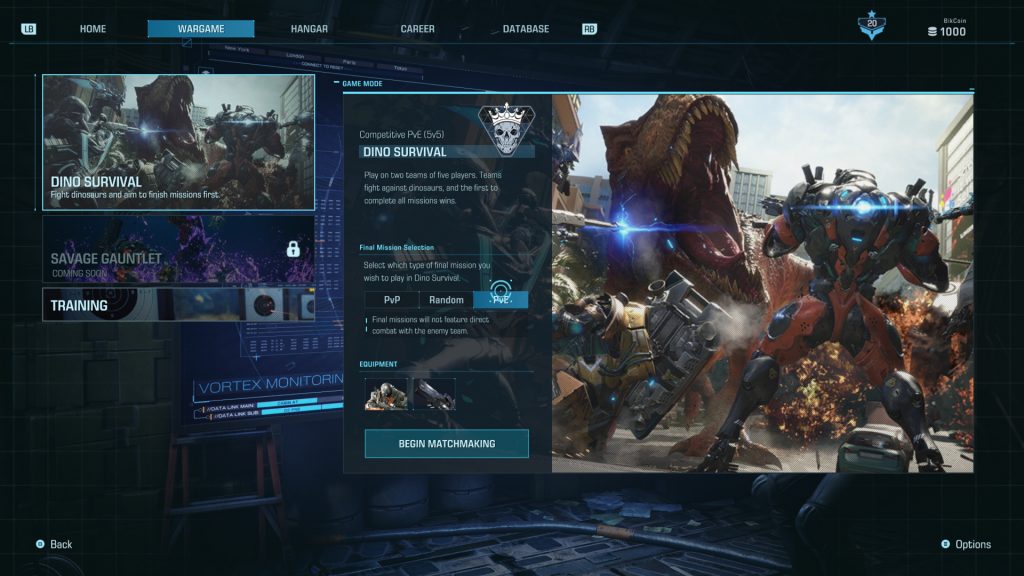 Crush Your Metrics
On July 28th, we'll also be adding a new mode to the game called Savage Gauntlet. This challenging PvE mode puts squads to the test with late-game missions that rotate weekly. Savage Gauntlet is designed with experienced players in mind, so you'll need to have completed the game's story before you can unlock it. By then, you should have a good understanding of how Exosuits work along with the module system that allows you to customize each Exosuit's performance to your liking. Modules are powerful enhancements that can be slotted in to provide passive buffs or, in some cases, change how a suit's abilities work. Certain modules are universal, so you can use them across multiple Exosuits as well!
Each Savage Gauntlet mission can be played multiple times, so it's a great opportunity to get a trusty squad together, take your favorite Exosuits to the next level with modules, and go for the best time possible. Outstanding Exofighters may even be rewarded for their efforts.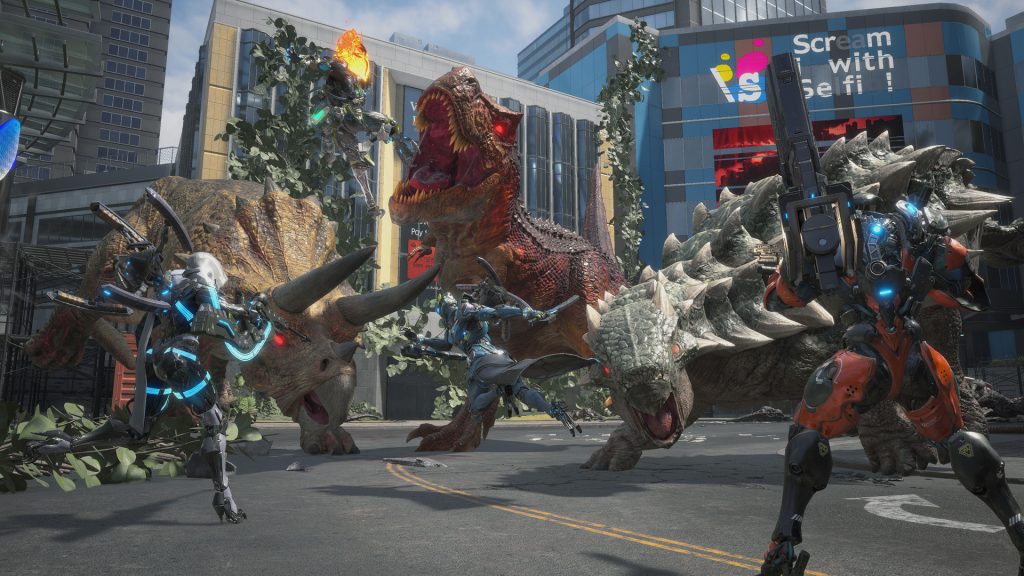 Dino-mite Content Updates
Following Exoprimal's launch, each new in-game season will be accompanied by a free Title Update! Each season brings with it a new Survival Pass, while Title Updates introduce additional contents such as Exosuit variants, modules that customize how Exosuits play, maps, enemies, final missions, and even crossover content with other Capcom franchises!
Seasonal content kicks off with Season 1 at launch on July 14th, and, as mentioned previously, you'll see a new game mode called Savage Gauntlet added on July 28th. On August 17th, Exoprimal will see its first major Title Update! This free update introduces 10 Alpha variant Exosuits that change up how each suit plays, complete with alternate designs and weapons compared to their base models. The best part? They'll all be available at once, adding a whole new dimension to gameplay.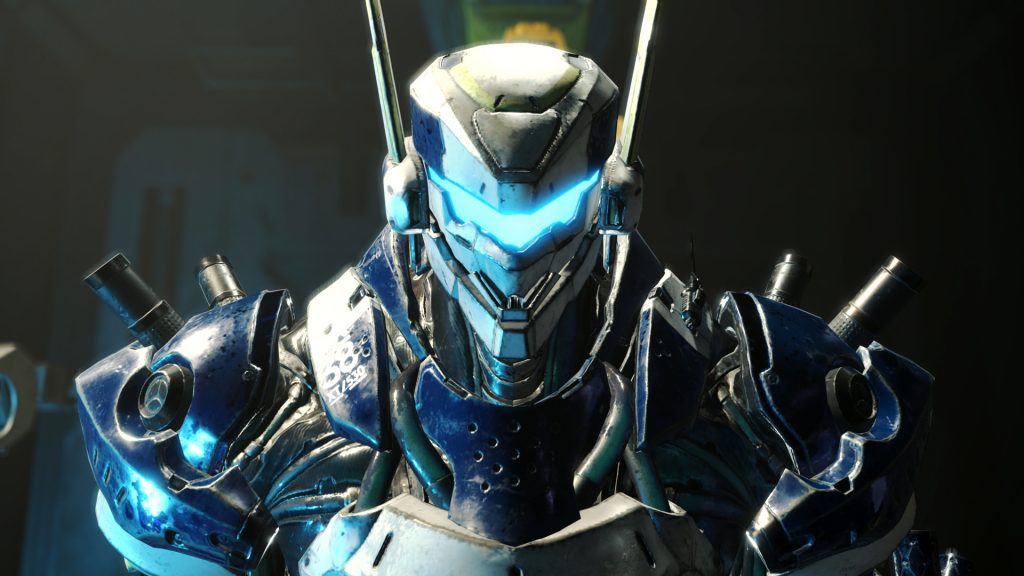 Season 2 kicks off in mid-October and brings the next Title Update along with it. World Warriors and time travelers will collide with a Street Fighter 6 collaboration. You'll also see a new map, a new final mission, and additional rigs (weapons and abilities that you can change out at-will during a match) and modules that will authorize even further customization of your Exosuits.
In January 2024, Season 3 will include a monstrous content drop. Beta variants for Exosuits will be added while also introducing a major new foe, the Neo Triceratops, plus a collaboration with the Monster Hunter series! We'll have more information on that in a future update.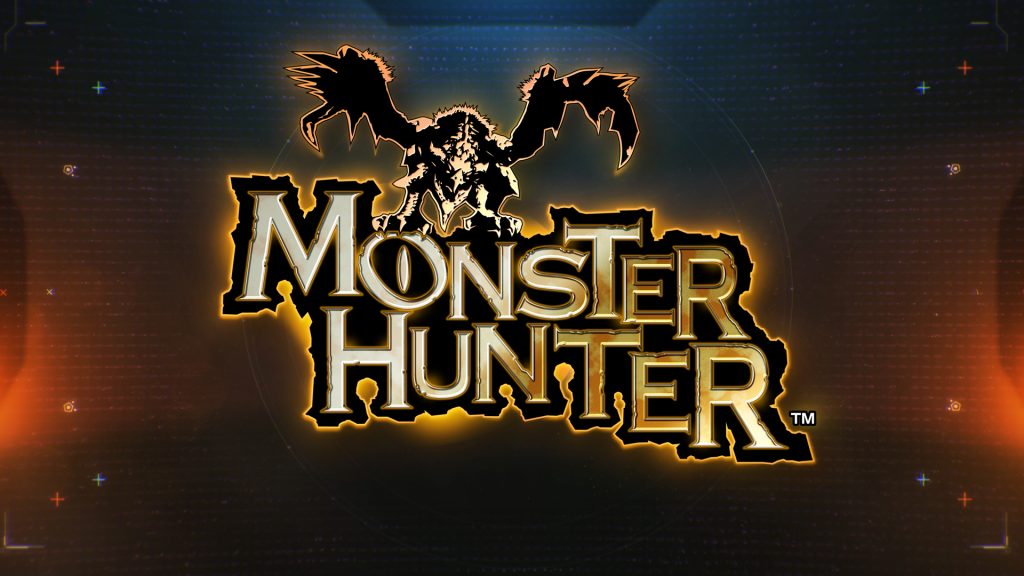 Exoprimal is out now on Xbox Series X|S, Xbox One, Windows, PlayStation 5, PlayStation 4, and Steam. The game is also available starting today with Xbox Game Pass for console, PC, and Cloud. It's time to suit up, adapt, and survive! We'll see you in the war games – it'll be massively fun!