EN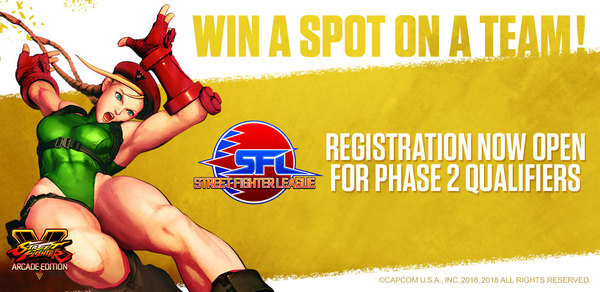 New Details On Street Fighter League: US-Pro 2019
Hello Street Fighter fans. The Street Fighter League: US-Pro 2019 is officially in progress and we have some updates and new details to share with you!
First, allow us to congratulate the winners of the SFL Phase 1 East and West Coast Online Qualifiers – RobTV and UpToSnuff, respectively. By winning the Online Qualifiers, they've placed themselves in the draft pool for SFL 2019.
Phase 2 East and West Coast Online Qualifiers registrations are open right now. If you competed in the first phase, you're still eligible to play in the second and third phases. Take control of your destiny by registering on the SFL 2019 Smash.gg page and put yourself on an SFL team!
Now on to the actual tournament format of the SFL. As mentioned previously, the 2019 SFL is a 3v3 teams-based competition. Once the captains and players have been determined – via Online Qualifiers and the Community Vote (which we'll get to in a bit) – a draft will take place to form the six teams.
We've put together this handy infographic to visualize the process.

Six teams will compete in a double round robin elimination tournament until we have a winner. However, we're introducing something a little different to the competition than you're used to seeing in teams tournaments – the character ban.
Before each match, a team will have the choice of banning one character. Each team will then have to make a strategic decision to determine who will play what characters. Once the character selections are made, they are locked in and repeating characters will not be allowed.
The goal is to introduce a layer of team strategy into the competition rather than focus solely on the individuals.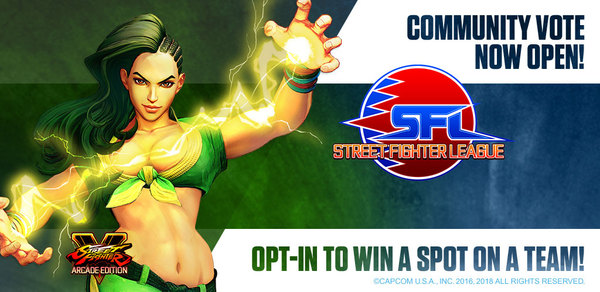 If you don't make it into SFL via Online Qualifiers, you still have a shot through the Community Vote. You can log into the official Smash.gg SFL Community Vote page and opt in right now. The opt-in phase lasts until Friday, March 15, 2019. At that time, the community can then vote on the players until March 17.
The six players with the most votes will win the final spots in SFL 2019 and be placed into the draft pool along with the Online Qualifiers.
That's it for now but we still have more info to share in the coming weeks so make sure you follow Capcom Fighters on Twitter and Facebook for updates on SFL 2019.