EN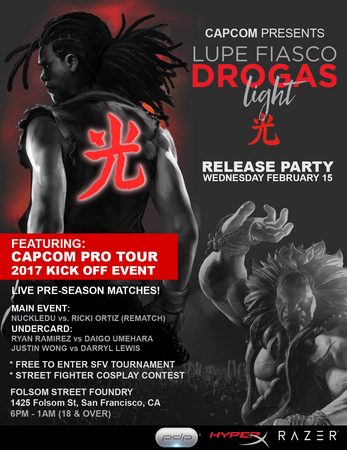 Street Fighter X Lupe Fiasco – DROGAS Light Album Launch Party 2/15
Hey everybody!
Last year, we kicked off Street Fighter V with a launch party featuring our good friend, Lupe Fiasco, challenging the legend, Daigo "The Beast" Umehara, to an exhibition match in San Francisco at the Folsom Street Foundry. This year, we're returning to the same venue 1 year later to celebrate both the release of Lupe's highly anticipated album, DROGAS Light, the Capcom Pro Tour and Street Fighter V Season 2's newest character, coming later this month. Stay tuned for more details next week regarding the newest character.
For more details on the launch party hit the jump!
The event will also feature pre-season Capcom Pro Tour matches between some of the best Street Fighter V players and commentary by all-star duo Stephen "Sajam" Lyon and "Tasty Steve" Scott. Ryan "Gootecks" Guiterrez and Mike Ross from Cross Counter TV's Excellent Adventures will be the on-stage emcees.
Main Event:
Capcom Cup 2016 Grand Finals rematch – Du "Nuckledu" Dang vs. Ricki Ortiz
Undercard:
Ryan "Filipino Champ" Ramirez vs. Daigo "The Beast" Umehara
Justin Wong vs. Darryl "Snake Eyez" Lewis
Special guests: Lupe Fiasco, Murs, Dan the Automator, DJ Qbert, Del the Funkee Homosapien and Domino of Hieroglyphics
Event Details:
Date: February 15, 2017
Time: 6pm-1am
Location: Folsom Street Foundry at 1425 Folsom St, San Francisco, CA 94103
Age: 18 and over
Cosplay contest
Free-to-enter 8-person SFV tournaments for prizes
This is a FREE event and first-come, first-served so be sure to line up early for your chance to get in!
DROGAS Light will be playing all night and we'll have a photo booth and exclusive merchandise for sale. And lastly, if you aren't able to attend in person, it all will be streamed on Capcom Fighters . For the latest updates on Street Fighter V, follow us on Facebook and Twitter .
About Lupe Fiasco:
Influenced by Jay-Z, Common, and Nas, Lupe Fiasco broke onto the hip-hop scene in 2006 with his debut album Lupe Fiasco's Food and Liquor. His hit single "Daydreaming" off of his debut album went on to win a Grammy in 2008, while he has received 12 Grammy nominations throughout his career. Powered by his proven lyrical prowess and remarkable artistic vision, Drogas Light is the latest chapter in Fiasco's impressive career since parting with Atlantic Records in 2014.
---