EN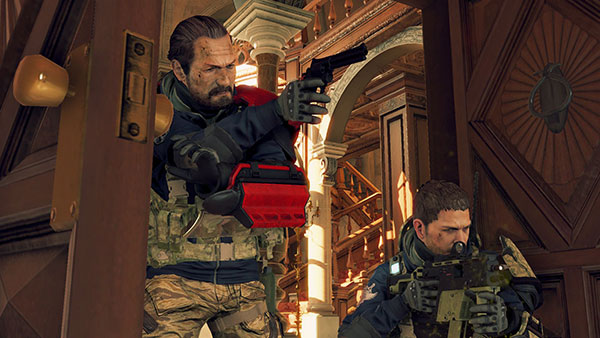 Free Spencer Mansion DLC Now Available for Umbrella Corps
Jul 07, 2016 // Tim
Update: The latest update for Umbrella Corps is now live on PS4 and PC. Download it now to unlock access to the free Spencer Mansion map for use in One-Life Match and Multi-Mission Mode. For more information on gameplay tweaks being applied to the PC version of Umbrella Corps, head over to Steam .
Attention all the battle-hardened mercenaries climbing the online ranks of Umbrella Corps : a new zombie-filled warzone is here. Players can now return to the infamous Spencer Mansion from the original Resident Evil to engage in fast-paced, 3-on-3 battles via free DLC.
The iconic Mansion may have been blown to smithereens at the end of the first RE, but this nostalgic DLC pack lets players step through the ornate halls and corridors once again. Use your memory of the Mansion's unique layout to your advantage as your pursue and ambush enemy combatants with your lethal Brainer axe weapon. Take cover behind the statue that once housed the useful map of the Mansion's 1st floor, or wage war in the deserted west wing dining room. Of course, you'll want to beware of the zombified Umbrella researchers roaming the halls as well as enemy players.
The free DLC offering is available now for both PC and PS4 players. Check out a gallery of new screens in our Facebook gallery . Also, those who wish to return to the Mansion as mercenaries outfitted to look like iconic RE characters like Chris or Barry, learn more here .
If you haven't joined the Umbrella Corps yet (available for $29.99), check out the links below.
Click to purchase Umbrella Corps on PS4
Click to purchase Umbrella Corps on Steam