EN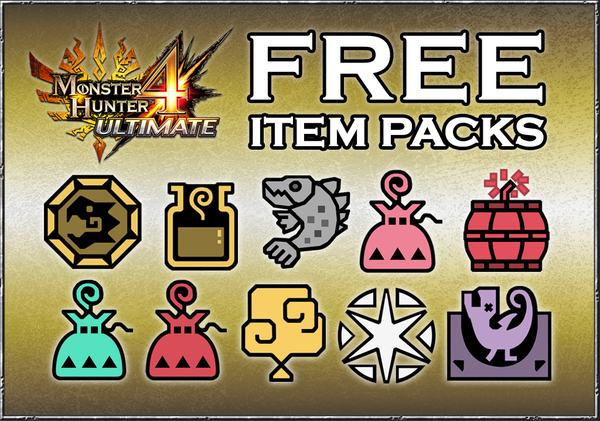 Two Free Additional Item Packs Available For MH4U
All right, so we already know MH4U is getting lots of awesome DLC this month (Metroid, Mega Man and Street Fighter!), but we have even more free goodies for ya! I present you two additional item packs, free of charge: MH4U Support Pack and MH4U Advanced Pack.
You may remember the free Starter pack we released back in March; the idea here is the same, but we've grouped the items into two separate packs, one tailored for those just starting the game and the other for hunters that have already sunk in a sizeable amount of hours in the game.
Just note that you don't have to choose between one or the other – you can, and should, get both packs. But make sure you get them now, as they will only be available until May 31 st!
Here's what you can get:
MH4U Support Pack:
50x Mega Potion
50x Honey
15x Mega Dash Juice
30x Mega Nutrients
10x Max Potion
20x Lifepowder
30x Disposable Earplugs
30x Tranq Bomb
20x Barrel Bomb L+
15x Pitfall Trap
15x Shock Trap
05x Ancient Potion
—
MH4U Advanced Pack:
30x Bomb Casing
10x Hard Armor Sphere
10x Heavy Armor Sphere
10x Energy Drink
10x Cathangea
15x Cathangeafish Fry
15x Scatterfish
05x Portable Steam Bomb
03x Dense Marcoal
05x Dust of Life
20x Armor Stone
3000x Caravan Points
HOW TO GET YOUR ITEM PACKS
REQUIREMENTS:
– Internet connection
– A copy of Monster Hunter 4 Ultimate
– A save file with at least one hunter created
STEPS:
Note: if you've already downloaded Patch 1.1 (released in March), skip steps 1 and 2.
1) Go to the Nintendo eShop
2) Download and install Patch 1.1
3) Load Monster Hunter 4 Ultimate
4) Go to "Your House"
5) Talk to the "Housekeeper"
6) Select "Downloadable Content"
7) Go to the "Gift Area" option
8) Select the item pack of your liking
9) Exit the Download Menu
10) Check your Item Box
WARNING:
Each item pack can only be downloaded ONCE per Game file. If you have more than one character, choose carefully which character you'd like to use to claim the items. In addition, if you delete or lose your Save Data, you will not be able to re-download the pack. We apologize for the inconvenience there.
Remember: these two item packs are totally free, but will only be available until May 31 st , so you should get them right now. Happy Hunting! =)