EN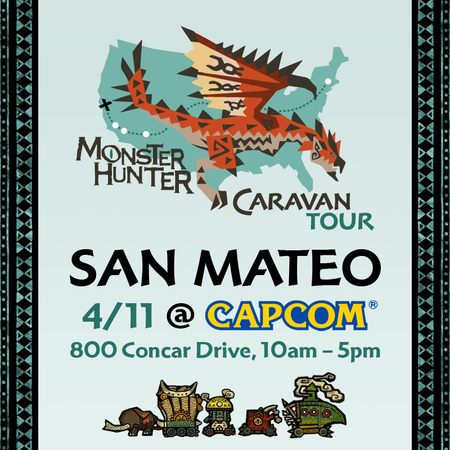 Monster Hunter Caravan Tour coming to Capcom USA office on 4/11
The Monster Hunter Caravan Tour is making its way to San Mateo, California, for a special stop at the Capcom USA office this Saturday, April 11th, 2015!
If you've been to one of our previous Monster Hunter Community College or All Hunters' Eve events, you sort of know what to expect – lots of hunting! – but this time, the Caravan will be here to bring you the authentic MH4U experience. This is one Monster Hunter gathering you won't want to miss!
Here are the logistic details:
Capcom U.S.A.
800 Concar Dr.
San Mateo, CA
94402
( Google Maps )
April 11, 2015
10am – 5pm
Also, click here for a full listing of the available merchandise for sale.
To RSVP, just head over to our Facebook Event page . See you Saturday! =)