EN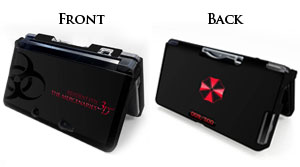 Guides & cases & plushies. Oh My!
Aug 06, 2011 // DJay
I'm going to get back into the old routine with the latest Capcom Store Deal Of The Week .
This week I'm reviving some gift-with-purchase items that were very hot when I first offered them. We located a few extra of the oh-so-cute Chibiterasu plush key chains and the dark and sexy Resident Evil: Mercenaries 3DS cases. To make the offer even better I'm offering the incredible Marvel Vs. Capcom 3 Signature Series Guide free when you pick up a Marvel Vs Capcom 3 Special Edition for the PS3. These special editions have been sold out everywhere for awhile now. If you're looking for a great deal or you missed out on these offers the first time around, get 'em now. Supplies are extremely limited!