EN

Capcom Returns to PAX West 2010
Sep 01, 2010 // Snow
Francis, our Sr Director of Creative Services and Events, has put together a little run down of what to expect from PAX! Check it out below.
Heads up, Capcom Nation! We are returning full force to Seattle this Labor Day weekend as we deliver another fun, exciting experience on the showfloor of PAX WEST!
Located near the middle of the expansive exhibition showfloor, Capcom's 1,500 sq. ft. booth features hands-on gaming for some of the most anticipated games of the coming year including:
– Marvel VS. Capcom 3: Fate of Two Worlds
– Dead Rising 2
– Sengoku Basara: Samurai Heroes,
– Ghost Trick
– Okamiden
– Resident Evil 5: Gold Edition PS3 Move,
– Bionic Commando Rearmed 2
– Mega Man Universe with new, never before seen trailers and game levels.
There's something for everyone at the Capcom booth and it's a DESTINATION unto itself.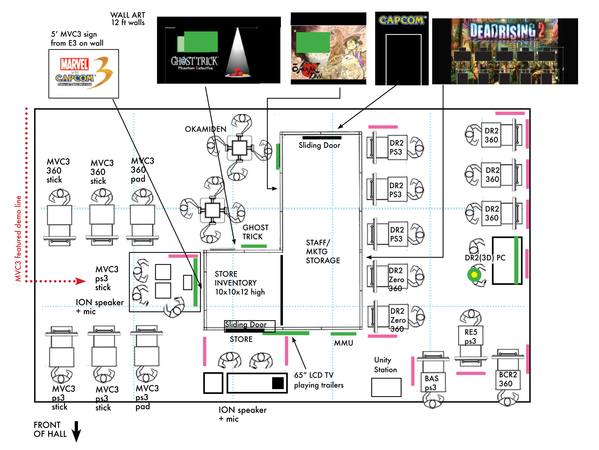 SWAG ALERT!
Capcom is renown for its awesome swag that become instant collectibles as well as Ebay fodder. This year is no different as lucky game not only get to play our games before anyone else, but go home with a cool Capcom collectible such as….
MARVEL VS. CAPCOM 3:
Win 5 MvC3 matches in a row and receive an exclusive Marvel VS. Capcom 3 t-shirt and/or exclusive MVC3 poster.
DEAD RISING 2:
Exclusive Chuck Bobble Budds figure upon completing the demo.
BIONIC COMMANDO REARMED 2:
Spencer's moustache applique after playing the demo.
OKAMIDEN:
– Limited edition "Three Okami Sun" T-shirt Raffle (10 winners per day)
– Okamiden "Chibi & Friends" Stickers after playing demo.
– Okamiden Rubber Bracelets.
GHOST TRICK:
Exclusive poster
SENGOKU BASARA: SAMURAI HEROES:
Exclusive poster
MEGA MAN UNIVERSE:
:Exclusive Mega Man Universe Headband given away every half hour!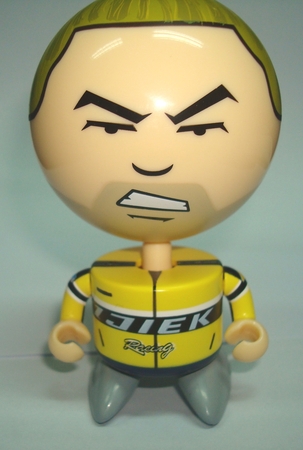 CAPCOM SHOPPERS UNITE!
The Capcom store returns with a ton of hot, new, and exclusive collectibles that will be must-haves for any Capcom fan! The precious inventory includes exclusive t-shirts, Capcom games at killer prices, new art books, music soundtracks, and high end collectibles such as: – Dante's Red Queen sword replica from Devil May Cry 4
– Mega Man and Proto Man Kubricks
– Udon's Art of Capcom 2
– Udon's SF20 Hardcover
– Mega Man Official Complete Works HC
– Chun Li Fight Stick
– Tatsunoko VS Capcom Fight Sticks (at a killer low price)
– Marvel VS Capcom Fight Stick (at an unheard of price of just $80 for Xbox 360)
and a brand-new Bobble Budds version of the Servebot with its Squinty face to go with the almost-sold-out Happy Face version that debut at Comic Con! Like always, the crowds are fast and furious at the Capcom store so we strongly suggest you stop by earlier than later and take care of your wishlist rather than risk your favorite items being sold out.
BE LIKE CHUCK!
Be sure to look for the Dead Rising 2 3D photo opportunity run by our friends at NVidia in the South Lobby. There'll be a giant backdrop featuring hordes of zombies in Fortune City and a full-size motorbike with chainsaw handles that you can sit on. Plus, you can wear Chuck's trademark yellow motorcycle racing jacket, and a plethora of real-life DR2 combo weapon props to pose with! The best part is you'll see your picture instantly in mind-blowing 3D as well as the ability to access your image online after the show. All for FREE!
The thing that us Capcomers most look forwards to in coming to PAX is the ability to interact and hang with our fans. Please DO ask the staff questions, tell us about what you like or want to see from our games, and share with us your favorite Capcom memories and experiences! Meeting you all will be the best souvenirs for us to take home from Seattle.
See you soon! Safe travels!!