EN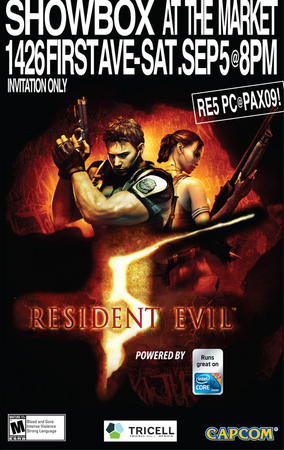 Be a Part of the Resident Evil 5 PC Launch Party at PAX!
Aug 31, 2009 // jgonzo
In celebration of the upcoming September 15th release of Resident Evil 5 on the PC, Capcom and Intel are inviting you to an exclusive launch party this Saturday at Showbox in Seattle.
The first 250 people to come by the Resident Evil 5 PC area at the Capcom booth at PAX on Friday AND Saturday (that's 500 total) will get passes for Saturday night's event.
Hit the jump for full launch party details, including prizes and exclusive giveaways!
The party will be held at Showbox, which is located on 1426 First Ave in downtown Seattle, not far from the convention center.
What can you expect? Tons!
As hinted earlier , the theme will be a Tricell corporate event and we will have 25 PC stations demoing Resident Evil 5. In addition, everyone gets a raffle ticket for a chance to win one of five Core i7 processors courtesy of Intel. We will also be giving out digital download codes for RE5 PC throughout the night for download on the game's release date.
You'll also be able to get your very own customized Tricell photo ID badge as well as a Majini makeover from our on hand make up teams!
Finally, EVERYONE at the party gets a Resident Evil 5 "sand" globe featuring Chris and Sheva.
Be sure to make your way to the Capcom booth as soon as the PAX doors open to secure your spot at the party!